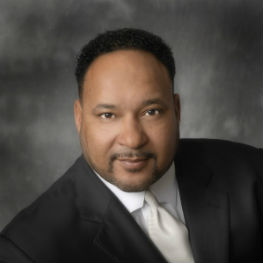 Dr. Kelly R. Booker was elected Moderator at the 2019 Annual Session of the East Zion Consolidated District Association. He is the 20th Moderator to serve the District.
Greetings From the Moderator
My Fellow Laborers and Servants of God Almighty!

As we embark on this four-year journey, I can't but take notice of the ever-changing times we are living in. The church of Jesus Christ is facing challenging issues during these crucial times. Social and moral issues and the need to stay relevant come to the forefront. Pastors are being challenged and confronted with "should we change and confirm, or stay the course. Keep up or be left behind."
Church attendance has dwindled in many of our churches, while viewing the success of our counterparts further deepens our private discontent and frustration. Leading to ask the question, "What should we do?"
Jude answers this question and many others when he writes to encourage the faithful to remain steadfast in the face of ever-changing times. Jude chapter 1:3 says, "Beloved, when I gave all diligence to write unto you of the common salvation, it was needful for me to write unto you, and exhort you that ye should contend for the faith, which was once delivered unto the saints."
The crux of the text is this, apostasy had infiltrated the church. Apostasy is the abandonment or the renunciation of a religious belief. Jude calls for every believer to hold fast to their faith and salvation that was once delivered to them. This is my call to all the East Zion Consolidated Pastor's and fellow laborers of the Gospel of Jesus Christ. We must tread carefully as it relates to being relevant while remaining biblically sound.

I have chosen for the next four years the theme, "Working Together as We Contend for the Faith." Let us all, Pastors and fellow laborers, explore, expound, and contemplate the words of wisdom from our Brother Jude as we seek to edify our churches, Pastors, laborers and our precious District.
In His Service,

Dr. Kelly R. Booker